– His Holiness the Dalai Lama has written to Greta Thunberg to express his deep appreciation for her efforts to raise awareness of the climate crisis that faces us all.
"It is very encouraging to see how you have inspired other young people to join you in speaking out," he wrote. "You are waking people up to the scientific consensus and the urgency to act on it.»
His Holiness ended his letter by offering his wholehearted support for Ms Thunberg's efforts with his prayers and good wishes.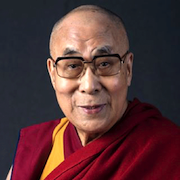 Support for Greta Thunberg's Speaking Out about the Climate Crisis | The 14th Dalai Lama
The Official Website of The Office of His Holiness the 14th Dalai Lama


Source